Infrastructure and Permafrost Degradation in Point Lay, Alaska
By Benjamin Jones, University of Alaska Fairbanks (UAF); Jana Peirce, UAF; Billy Connor, UAF; Mikhail Kanevskiy, UAF; Yuri Shur, UAF; Tracie Curry, Northern Social-Environmental Research; Peppi Bolz, UAF; and Bill Tracey, Native Village of Point Lay
In Witness Community Highlights, 27 September 2022 Issue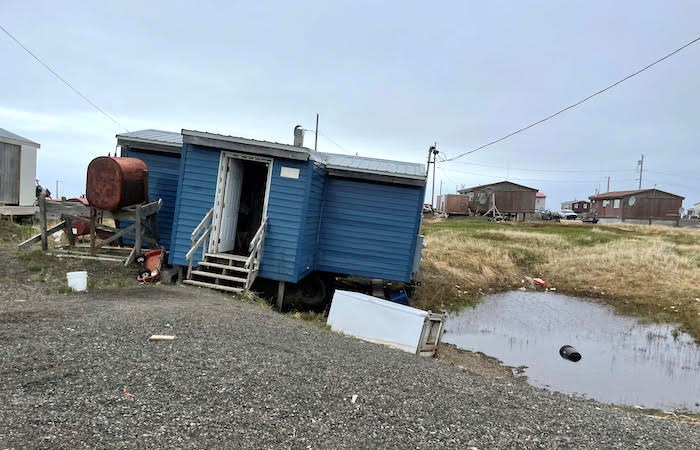 The Native Village of Point Lay (Kali) on the North Slope of Alaska has been identified as the second-most permafrost thaw-affected community in the state of Alaska. The village has 82 residential units, housing a population of approximately 330. There are several North Slope Borough municipal structures and the Kali School that serve the community.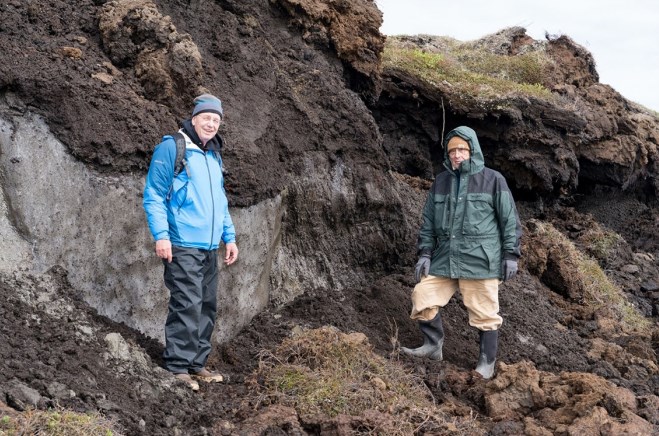 Most of the residential buildings in the village are built on an elevated surface underlain by ice-rich permafrost that is susceptible to thaw and terrain subsidence. Issues associated with thawing permafrost have dramatically increased in the village during the last decade. Water and sewer lines have failed, homes are being affected by ground subsidence, the community's freshwater drinking lake drained because of permafrost degradation in 2016, and one of their water storage tanks ruptured last winter.
Image top: A home in Point Lay that is affected by ice-wedge thermokarst. Photo courtesy of Benjamin Jones.
Image bottom: Billy Connor and Dr. Yuri Shur assessing wedge ice exposed in a coastal bluff outside of the village. Photo by Benjamin Jones.