Project Summary
Background
Using nitrogen isotope analysis (δ15N) of sediment cores to study variability in sockeye salmon (Oncorhynchus nerka) stock size over thousands of years at the head of the Sapsuk River near Nelson Lagoon, AK this project will determine how sockeye populations responded to environmental changes in the past. The outcomes will help predict the impacts of environmental change on sockeye stocks and help the communities that rely on them build strategies to cope with changes. See the Sea Grant link below for further details about our project.
Goals
To better understand the effects of environmental change in the Bering Sea on Alaska Peninsula sockeye salmon stocks, by collecting and analyzing recent and ancient data to get a long-term perspective.
To collaborate with local communities and the Alaska Department of Fish and Game to make results and conclusions easily available to stakeholders with interests in the Bering Sea sockeye fishery
Updates
March 2016
We have constructed a composite of the various cores taken during the 2014 field season.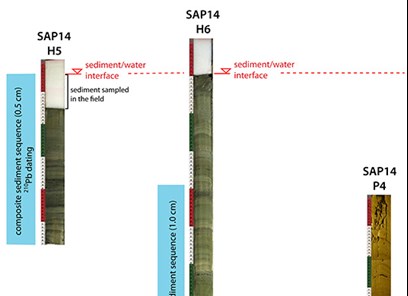 The cores have been have been sampled at 0.5 cm and 1.0 cm intervals, capturing what we hope are a decade interval at most. The pdf shows where we samples at 0.5 cm versus 1.0 cm. There are now close to 500 samples processed for information about carbonate influx, terrestrial versus aquatic plant input and salmon nutrient input. We have 12 radiocarbon dates and are awaiting lead-210 to make our age model of the core more robust. The pdf of core composites shows the locations of the radiocarbon samples. We are also currently working on analysis of the stable isotope data which will refine our model of numbers of returning salmon through time.
Three presentations have been given based on data available. One was at the Western Alaska Interdisciplinary Science Conference in the spring of 2015 and two were give in Japan in July 2015.
---
At the end of July/beginning of August 2014 the team conducted field work out at Sapsuk Lake (also known as Hoodoo or Nelson Lake). Due to amazingly good weather we retrieved cores from 3 areas of the lake instead of one. We also collected water, plant and soil samples from various areas around the lake.
The cores were cut down to lengths and secured for travel. They were then shipped to Idaho State University, where they have been split and described. The cores will now be processed for stable isotope work and radio carbon dating. The plant and soil samples will be processed for stable isotope analyses as well.
The water samples and zooplankton net hauls were rushed to our partners at ADF&G in Kodiak for immediate processing. The water samples have been analyzed for pH, alkalinity, Chlorophyll a, and nutrient content while zooplankton have been identified, counted, and measured.
Fieldwork Images
 Videos