Permafrost outreach 2008
The University ofAlaska EPSCoR program, NASA IPY and NSF IPY, Thermal State of Permafrostprograms are conducting an outreach effort in conjunction with it's research focuson permafrost and infrastructure. The outreach effort has been termed the"Permafrost Health" program and consists of installing permafrosttemperature monitoring systems!
Ninth International Conference on Permafrost (NICOP) in Fairbanks next week
Live Webcast of Ninth International Conference on Permafrost (NICOP)
Sunday 29 June 2008 - Thursday, 3 July 2008

For further information, please go to:
http://www.nicop.org


Webstreaming

will be available at:
http://www.iarc.uaf.edu/video/NICOP/

--------------------
The Ninth International Conference on Permafrost (NICOP), hosted by the
University of Alaska Fairbanks (UAF), will be held in Fairbanks, Alaska,
from Sunday, 29 June through Thursday, 3 July 2008. International
Permafrost Conferences are held every five years under the auspices of
the International Permafrost Association (IPA). The IPA was officially
organized in 1983 during the Fourth International Conference on
Permafrost. NICOP will celebrate the 25th anniversary of IPA and the
125th anniversary of the International Polar Year with special IPA
emphasis on the thermal state of permafrost throughout the polar
regions.

The following sessions will be available via live

webcast

at:
http://www.iarc.uaf.edu/video/NICOP/

Sunday, 29 June
11:00 a.m. -12:30 p.m.: Opening Ceremony
2:15 p.m. - 3:40 p.m.: Opening Plenary
Monday, 30 June
8:30 a.m. - 10:00 a.m.: Plenary Thermal
Tuesday, 1 July
8:30 a.m. - 10:00 a.m.: Plenary Engineering
4:45 p.m. -5:45 p.m.: Public Lecture
Wednesday, 2 July
8:30 a.m. - 10:00 a.m.: Plenary Hydrology
Thursday, 3 July
8:30 a.m. - 10:00 a.m.: Plenary Mountain
3:00 p.m. - 4:15 p.m.: Closing Ceremony

For further information, please go to:
http://www.nicop.org/
Ninth International Conference on Permafrost (NICOP) UAF Summer Courses
The following courses are offered in conjunction with the Ninth International Conference on Permafrost (NICOP). There are two offerings of Introduction to Permafrost and Frozen Ground Engineering (one at the undergraduate level and one at the graduate level) and one offering of Understanding the Role of Permafrost in a Rapidly Warming Climate.
Introduction to Permafrost and Frozen Ground Engineering (1 undergraduate credit)
June 23-26
CE F495P-F01
CRN: 51624
9 am to 1 pm, Mon., Tues., Wed., Thurs.
Duckering 344
Instructor: Yuri Shur
Email: ffys@uaf.edu
Introduction to Permafrost and Frozen Ground Engineering (1 graduate-level credit)
June 23-26
CE F695P-F01
CRN: 51625
9 am to 1 pm, Mon., Tues., Wed., Thurs.
Duckering 344
Instructor: Yuri Shur
Email: ffys@uaf.edu
Understanding the Role of Permafrost in a Rapidly Warming Climate
June 25-27
ED F595P-F06
CRN: 51743
9 am to 5 pm Wednesday and Thursday
9 am to 1 pm Friday
Akasofu (IARC) 417
Instructor: Kenji Yoshikawa, Larry Hinzman
Email: lhinzman@iarc.uaf.edu
You can register for these courses using the Summer Sessions Secure Registration Site. If you are not a U. S. citizen and do not have a social security number you can enter zeroes in that field.
Finland !
Kenjivisited

Helsinki

, Finland
this week for meeting.
Finland is located almost

theother

side of Alaska that has 11 hours time difference. But many similarities

,native

people still have Reindeer and snow country. Kenji met his friend (

Prof.Matti

Seppala

)

at University of Helsinki .

Hehas
other special code name "Dr.

Palsa

"! He is studying for

Palsa

in

northernFinland

over 40 years.

Palsa

is frozen mound usually developed thicker

peatarea

in discontinues permafrost regions. One of

the our

discussion was the

siteselection

for our Finland Permafrost Observatory. He is definitely best

personto

ask permafrost condition and villages for northern Finland . He gave me two

potentialsites

where are

Kevo

and

Kilpisjarvi

.

We will most likely install

Kilpisjarvi

, hopefully

thissummer

! During meeting banquet, we visited

small island

, that have

disply

famasGerman

Sub "U-boat". This looks still good shape! More than 50 years!

Emmonak

flooding!

Water hasoverflown the banks of the Kwigkuk River in the bush village of Emmonak onFriday afternoon. Villagers watch the water rise during break-up of the frozenice on the river. The flooding started behind the AC store and in the downtownhousing area of the village and covered the main road by 6:00 pm. The road tothe Emmonak airport has been closed and families are moving from low-lyingareas to higher ground. They have been on flood alert for two days since theNational Weather Service warned of large amounts of ice coming down the YukonRiver from Mt. Village are headed for the Yupik village. (Photo and reported by Diana DeStafeno, Emmonak)
Our hero Henry (principal "Bill's" son) save dataloggers from this flooding event! Heand his mother Diana searched instruments at borehole site on Thursday (May22). He found the sensor/datalogger and wiring in the field. They had to gothrough about 1 foot of water around the ground temperature monitoringsite. Henry did great job andcontinoe to support our program!!
Thank you Henry!
4:30pm on Friday, May 23, 2008
Eagle
Vlad(Vladimir Romanovsky) and Kenji left Fairbanks midnight of May 13 for Eagle. Weplan to look for Tom (Osterkamp) 's borehole, to drill permafrost monitoringstation hole and giving lecture at school one day including 16 hours drive!This is a little bit big day for us. That why we decide to leave town previousday (midnight). Vlad drove most of the portion until morning. At 9am, we are atEagle. The Eagle area has been thehistorical home to Han people since before the arrival of Europeans inAlaska. The first structure in present-day Eagle was a log-trading post called"Belle Isle," built around 1874. In the late 1800s, Eagle became asupply and trading center for miners working the upper Yukon River and its tributaries. By 1898, its populationhad exceeded 1,700. In 1901 Eagle was the first incorporated city in the Alaska Interior. It was named after the eagles thatnested on nearby Eagle Bluff. A United States Army camp, Fort Egbert , was builtat Eagle in 1900. A telegraph line between Eagle and Valdez was completed in 1903. The gold rushes in Nome and Fairbanks lured people away fromEagle. Judge Wickersham moved his court from Eagle to Fairbanks in 1903. By1910, Eagle's population had declined to its present-day level (below 200people). Fort Egbert was abandoned in 1911. Present-day Eagle is home to mostlypeople of European descent, but Eagle Village has a small population that is about 50percent Gwich' in. The town enjoyedsome notoriety as the location of the popular John McPhee book "Cominginto the country" which was published in the 1970s (from Wikipedia).
Atfirst we looking for borehole. Tom with DOT drill 1985 near airport. This datais very important for us. At that time permafrost temperature was -3.6dC. So weexciting to check today's permafrost temperature. About hour later, we cannotfind any "ordinary" borehole except ¾" copper pipe. This looks not Tom's normalinstallation. But we cannot find other than this, we think maybe this. Also capwas open and refreeze inside of hole! We will bring steam system for thawingnext trip.
Afterthe cruising around tundra, we back to school to find science teacher (MarlysHouse). They play baseball beautiful city ground next of Yukon River . River isalready open to see mighty power even half mile away from shore. We setschedule for the class 12:40. Until then we go back to natural forest/tundra toinstall permafrost monitoring station.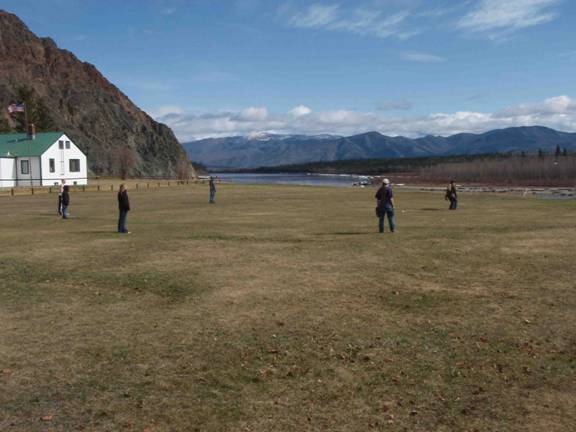 Afterthe installation, we quick back to school and lecture permafrost to thestudents. Students are extreamly good and well knowledge. We had a great time,but we have to leave soon. Road is waiting another 8 hours drive back toFairbanks!
May 10, 2008
Fairbanks
We are back in Fairbanks . Weather is completely different from Bering

Sea
!It

looks already summer here. We made many progress in this spring trips.

Totalover

60 villages had permafrost station (red dot) now and additional 16 villages

having

frost tube or water

monitoringstation

(yellow dot).

Thank

youfor

your support! We are approaching to edit our annual report and

permafrosthandbook

for villages as well as Tunnel Man movie. Stay tune

fartherinformation

!

More St. Lawrence island

(May7, 2008)
Kenji gave a talk at
Gambell

school

. We had to leave the island after this talk.

Kaji

was busy preparing

toleave

and packing. Outside of school was still winter looking with stormy

wind!However

, farther west of sky near Russian coast see dark gray "water

sky"indicating

open water.


Tuesday, May 6, 2008
We gave

three classes (3hours) this morning at
Savoonga

. During Kenji's talk,

Kaji

run to the borehole site to download data,

fixcap

etc. At 12:10pm, class was end, and we eat quick lunch for moving to

Gambell

.
Gambell

is another village of St. Lawrence island located west end. We are almost same as Russian

ChukotkaPeninsula

for longitude. After we met teacher Jessica for tomorrow's

classschedule

. We hit big problem about permission! IRA does not want to give

thepermission

for drilling. Teacher and Principal help us to explain more

aboutpart

of school educational program. But it does happen. So we cannot do anything, even we

haveall

equipment and pipes with us!

Monday, May 5, 2008
Kaji

and Kenji went to

Kiana

School this morning to meet students. After30-minute talk, we all go out to see frost tube and

datalogger

.
After

thedownload

data, we went to airport for Nome . Pilot (Dave) just got in runway at10:00am, good timing. Three of us

arrived

Nome around noon. We enjoyed

lastlunch

for three. Dave would leave for Fairbanks this

afternoon,

and

Kaji

andKenji

leave for

Savoonga

(St. Lawrence Is.). Cessna (single engine)

cannotcross ocean

, that why we took scheduled flight for

Savoonga

. Thanks Dave

fortaking

care of us 6 days! After the lunch at Airport Pizza, we visit

Nomepermafrost

station to replace loggers.
Flight

forSavoonga

was smooth but almost whiteout. We met Doug Finn (Science Teacher) and he took his

snowmachine

and

sledfor

drill site. Three of us working two hours to establish permafrost

station.Once

we install logger and frost tube, we back to school.

Sunday, May 4, 2008
It is beautiful morning in Teller. We eat fresh pike at breakfast from Jay

!Cessna

try to approach Wales after Teller but
we could not by weather. We head east to Backland (

acrossthe

Seward Peninsula ). Backland is beautiful weather and

principal

Terri

andbrother

Tim help us to install permafrost station. Especially Tim

stay

to

helpmost

of the time and give us fresh

seefish

! After Backland, we went to

Noatakto

repalace

logger. But, we could not find station by heavy snow.

Stan(

teacher) call Ezra (one of the excellent students helps us our program)

tocame

looking for this. Once he came ten min. later, he found immediately

!Thanks

Ezra!
We moved to
Kiana

to stay John and

Mahsa's

apartment. We had a

wonderfuldinner

with John's family and

principal

Sue.

Saturday, May3, 2008
It is marginal condition at
Unalakleet

this morning. We decide to go

northinstead

of going St. Michael and Stebbins. We change pipes at

Koyuk

,

Golovinthen

fly to Teller. Teller school principal "Jay" pick us up at airport.

Oncewe

are in Teller, we start drilling. It takes two hours to drill and

establishpermafrost

station. When we finish installation,

Brian (science teacher at

Brevig

Mission) visit to Jay. Itis great timing for us to go

Brevig

Mission. Brian and Kenji use Jay's

machineto

Brevig

Mission. When

kenji

fix borehole and replace

datalogger

,

kenji

driveback

to Teller.

Friday, May 2, 3008
We stay nice place at Galena Charter School housing last night! The
schoolis

located big and comfortable former Air Force base place. Teacher

Shayneorganized

nicely for us. We meet student 9am and replace

dataloggers

using

bigvan

.

After 10:15am we go to airport to catch Dave's Cessna 206 to move
Kaltag.There

are still a lot of

snow

inKaltag

. It not easy to find logger site! After a few shoveling, we find

andreplace

dateloggers

.

Afterreplace

, we move to

Unalakleet

. We have been here last month but we

cannotdrill

here for shipping reason. We get drill permission from city and talk to students. After 3:30pm, Kim

driveto

the site for us! We drill 3hours to establish site. After the

establishpermafrost

station, we

eat

pizzaand

rest.

Thursday, May 1, 2008
It is Beautiful day!
in

Fairbanks . We fly to Stevens Village . School

helper"William

"

drive

to runway to pick Kenji up.

Kaji

and Dave fly to Beaver

forreplace

datalogger

. Kenji meet Genie and Dora (only two teachers in school)

,who

met at Arctic Village last year! Kenji immediately start drilling and

onehour

later,

Meeting students for

permafrostlecture

. Two hours later, Air plane back to Stevens Village and Kenji is

justdone

here.


We all move to next village "
Huslia

". About 1hour and 50 min. flying.

Weare

at

Huslia

, Teacher Geoff and many high school students pick us up at

runwayand

drive around town to find drill site. End

up,

we decide drill near air

portis

better! All students and us drill and quickly finish because warm

sunnyweather

and sandy materials! After install loggers we move to Hughes.

Hughes

isKoyukuk

River

village and old mining activities.

We cannot find good spot

todrill

!

Princepal

Bob is great teacher but we decide not drill here and

alsoweather

getting marginal. We decide to move for Galena .


Wednesday, April 30, 2008
It is snow! I expect beautiful spring day but NOT!
Kenji and
Kaji

stand by airplane in the morning since 7:30am, Finally

Dave(

Wright Air pilot) call us to go by twin engine plane"

aroud

noon. This is great decision

!Single

engine can not fly up cloud but twin can. We are going to

Venetie

thenKenji

off plane to start drilling.

Kaji

and Dave continue to fly for Arctic village. At

ArcticVillage

,

Becky pick him up and

tobring

to school.

Kaji

replace

datalogger

since last year and return to

Venetie.When

the

Kaji

and Dave back to

Venetie

, Kenji is almost done drilling. We tell to teacher Carmen

datalogger

andfrost

tube. After the establish site, we move to Ft. Yukon . Time is running out quick, after 5 pm

,no

one can hold in Ft. Yukon .

Kenjiand

Kaji

walk to the Ft. Yukon permafrost site replace loggers. Kenji

need

abit

time to fix cables by chewing animals. The weather is getting bad here

inFt

.

Yukon

too at 7pm.

Tuesday, April 29, 2008
Thankyou
for your support for our 2008

snowmachine

trip.
We were safely coming back

toFairbanks

. We really enjoy meeting many teachers, students, local

communitypeople

... During three weeks of trip, we run total 1450 miles, visited 24villages. We just made short 3-minute movie for this trip summary.
Ifyou
have a chance, try following address:
http://www.youtube.com/watch?v=63otvsYatwQ
or our web site
http://ine.uaf.edu/werc/projects/permafrost/sm2008/sm2008/smtrip2008/bigcontry.htm
We have planed thefollow-up trip next week to download data, fixing pipes etc using Cessna 206.You will be able to see "Where are we flying ?" everyday at our website www.uaf.edu/permafrost .
Our detailed scheduledepends on weather. It will be hard say when we are where?!
However, If you check ourblog. You can find out where we are! And see a lot of pictures!
Expected date for visiting schools
April 30:
Eagle, Circle, Chacktiak, Ft.Yukon, Arctic Village , Vinetie,
May1:
Beaver, Stevens Village , Tanana, Allakaket, Hughes, Galena
May2:
Huslia , Kaltag, Unalakleet, St. Micheal, Stebbins, Kotlik,Emmonak,
May3:
Koyuk, Golovin, Teller, Bravig Mission, Wales
May4:
Backland, Pt.Hope
May5: Noorvik, Kiana, Noatak, Kivalina, Nome
May6:
Savoonga, Gambell



Friday, April 25, 2008
We are preparing follow up trip by using Cessna 206. Wright Air support forthis one week continue village trip. We had a bit cargo problem for our snowmachine trip last month. Especially earlier schools were not enough materialsto set up permafrost monitoring station and also some of the village was onlydrill hole without meeting students because of arriving weekend. So idea ofthis trip will be complete instrumentation and meeting students, but alsoestablish new schools too.
Here is challenge part!
We try to visit as many as possible villages between April 30 and May 6. Youwill find out how many villages we can do via this web page. We will alsoupload a lot of aerial photos of beautiful part of Alaska ! Stay tune!
Tuesday,

April 15, 2008
Wewere back to Fairbanks . Our 2008 snow machine trip was over. It was nice massivefocused three weeks. Four of us worked hard everyday straight. Total 1450miles,we run across the western Alaska visited 24 villages. Many students and teachers did support our program. Wedeeply appreciate all of them. Our final active report will post our web site shortly. You can see our 3minutes summarized movie at You Tube ( http://www.youtube.com/watch?v=63otvsYatwQ ) or our web site ( http://ine.uaf.edu/werc/projects/permafrost/sm2008/sm2008/smtrip2008/bigcountry.htm ). Please check this movie "The BigCountry"!
Finally,I remained Fridtjof Nansen's message. I always find out dreams andgetting energy for the future exploring from the last paragraph of his FarthestNorth (1897).
The ice and the long moonlitpolarnights, with all their yearning, seemed like a far -off dream from anotherworld - a dream that had come and passed away. But what would like be worthwithout its dreams?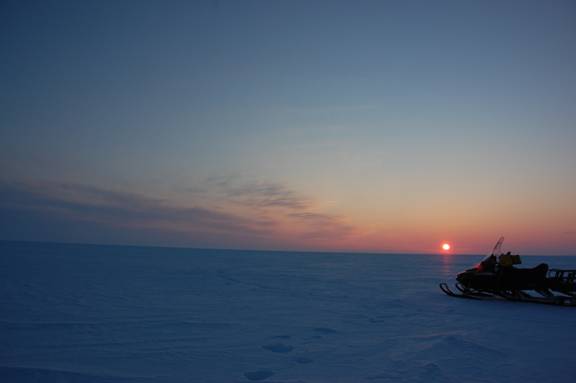 Sunset ( Kotzebue Sound )
Thank you!
Jump to older blog
Archives
February2007 March 2007 April 2007 May 2007 June 2007 July 2007 August 2007 September2007 October 2007 November2007 December 2007 January2008 February 2008 March 2008 April 2008
Friday, February 15, 2008
McGrath
Takotna
Wednesday, February 13, 2008
Alaska Forum
Wednesday, February 6, 2008
Healy and Anderson
Monday, January 7, 2008
Happy New Year !
Wednesday, December 19, 2007
Happy Holidays! -final news letter for 2007-
Sunday, December 16, 2007
American Geophysical Union
Wednesday, December 5, 2007
Temperature at Gulkana and talk
Monday, December 3, 2007
Delta Junction
Kenny Lake
Wednesday, November 21, 2007
Two full year data at Pearl Creek Elementary School!
Thursday, November 15, 2007
Pearl Creek School
Tuesday, November 13, 2007
Frost tube works great!
Wednesday, November 7, 2007
Frost Tube at Randy Smith Middle School
Thursday, October 25, 2007
Big Triangle part 2 (Northway)
Big Triangle part 1 (Glennallen, Kenny Lake)
Thursday, October 18, 2007
Cantwell, Denali Science Center, Healy, and Anderson
Saturday, October 13, 2007
Fairbanks (Randy Smith Middle School)
Thursday, October 11, 2007
Whitehorse, Beaver Creek
Monday, October 8, 2007
Faro, Ross River
Old Crow
Monday, October 1, 2007
Dawson
Globe workshop
Cantwell
Manley Hot Spring
Healy
Wednesday, September 26, 2007
Wainwright
Barrow
Tuesday, September 18, 2007
Back to Alaska! and Start fall semester
Sunday, September 16, 2007
Nuuk
Thursday, September 13, 2007
Sisimut
Monday, September 3, 2007
Ilulissat
Kangerlussuaq
for Greenland
Tuesday, August 28, 2007
Lensk
Thursday, August 23, 2007
to Yakutsk
Siberia Trip!
Drilling at Kenny Lake
Wednesday, July 11, 2007
Drilling plan for this summer
Wednesday, June 20, 2007
Tokyo
Monday, June 4, 2007
Terelj
Tuesday, May 29, 2007
13th century park
Monday, May 28, 2007
Mongolian High School
Sunday, May 27, 2007
Nalayh
Saturday, May 26, 2007
Ulaanbaatar
Wednesday, May 16, 2007
The trip for Mongolia
Sunday, May 13, 2007
Ross River/ Faro (May 9, 2007)
Friday, May 11, 2007
Faro (May 8, 2007)
Drilling at Dawson (Sometimes we loose, but this is real life and real excitement!)
Wednesday, May 9, 2007
Dawson City (May 6, 2007)
We found permafrost! (May 5, 2007)
Saturday, May 5, 2007
Whitehorse (May 4, 2007)
Thursday, May 3, 2007
Destruction Bay (May 3, 2007)
Beaver Creek (May 2, 2007)
Monday, April 30, 2007
Upper Yukon River (Canada) trip this week!
Monday, April 23, 2007
Kenny Lake
Tuesday, April 17, 2007
We drill Kotzebue (April 14)
Sunday, April 15, 2007
Selawik (April 13, 2007)
Thursday, April 12, 2007
One way or another to Noatak
Wednesday, April 11, 2007
To Kotzebue we go!
Monday, April 9, 2007
Stay tune!
Sunday, April 8, 2007
We are going to Noatak!
Tuesday, April 3, 2007
Stable isotope data results!
Saturday, March 31, 2007
Permafrost News Letter Vol.2 No.3 Released
Friday, March 30, 2007
Fort Yukon
Tuesday, March 27, 2007
Arctic Village
Monday, March 26, 2007
New schools posted
Sunday, March 25, 2007
Yukon Snow Machine trip 2007 report uploaded!
Saturday, March 24, 2007
Flying for Arctic Village and Fort Yukon
Tuesday, March 20, 2007
End of the Lower Yukon trip and next!
Friday, March 16, 2007